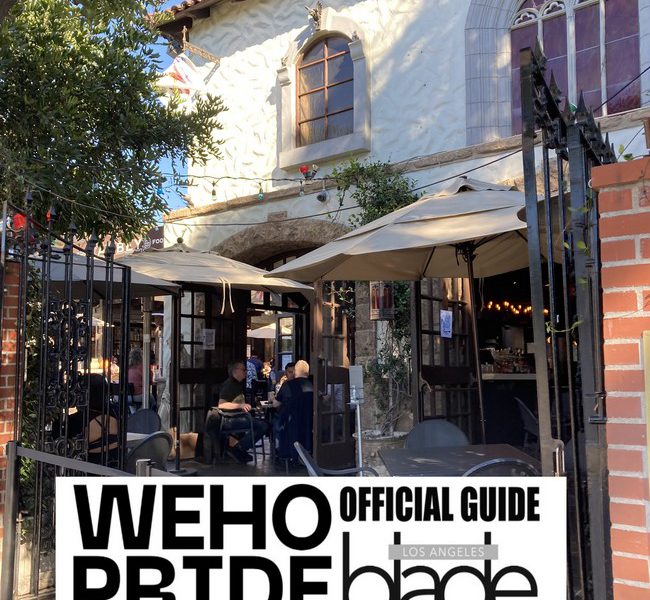 5th Anniversary with OUTLOUD Raising Voices VIP Event
WEST HOLLYWOOD — The Los Angeles Blade will celebrate its fifth anniversary on April 7, 2022 with a splashy VIP event produced by JJLA at the famed The Abbey Food & Bar, an event that will also feature the outlet as publisher of the OFFICIAL WEHO PRIDE GUIDE, which will present the OUTLOUD Raising Voices Music Festival (www.weareoutloud.com) during WeHo Pride Weekend (June 3-4-5) and the WeHo Pride LGBTQ Arts Festival (May 22-June 30) (www.weho.org /pride) in the city of West Hollywood.
"I am deeply honored that, as we celebrate our fifth anniversary, we also have the distinction of being named publisher of the OFFICIAL WEHO PRIDE GUIDE," said Blade publisher Troy Masters. "We have come through the pandemic together and we have all become stronger. Now is the time to bring the party back.
The OFFICIAL WEHO PRIDE GUIDE will be a special, comprehensive section of the May 27 and June 3 issue of Los Angeles Blade and will be distributed during WeHo Pride weekend (June 3, 4, and 5). It will feature a robust event schedule, content dedicated to West Hollywood history, notable stories, and the companies and organizations that make WeHo such a special place to live, to celebrate Pride.
The WeHo Pride LGBTQ Arts Festival will run for 40 days, from Harvey Milk Day on Sunday, May 22, 2022 through Thursday, June 30, 2022, live at various locations in West Hollywood, as well as selected online programming.
WeHo Pride Weekend will take place on Friday June 3, 2022, Saturday June 4, 2022 and Sunday June 5, 2022 in and around West Hollywood Park, located at 647 N. San Vicente Boulevard. Details will be announced.
WeHo Pride Weekend will feature the OUTLOUD Raising Voices music festival produced by JJLA. Headliners, artist lineup and ticket information will be announced in the coming weeks and information will be posted here, as well as on www.weareoutloud.com.
The WeHo Pride Parade will depart at noon on Sunday, June 5, 2022 and will run along Santa Monica Boulevard. Details will be announced.
For decades, the city of West Hollywood has hosted one of the biggest Pride celebrations in the country. Hundreds of thousands of LGBTQ+ people and allies from around the world make West Hollywood their usual destination during Pride. This year marks the inaugural "WeHo Pride" celebration of the Pride season. Additional information about WeHo Pride will be available soon and will be posted at www.weho.org/pride.
About the City of West Hollywood – Since its incorporation in 1984, the City of West Hollywood has become one of the most influential cities in the country for being outspoken on LGBTQ+ issues. No other city of its size has had a greater impact on national public policy discourse on equity and inclusion for LGBTQ+ people.
Home to the "Rainbow District" along Santa Monica Boulevard, home to a concentration of historic LGBTQ+ clubs, restaurants and shops, the city regularly tops lists of the nation's "most LGBTQ+ friendly cities" .
More than 40% of West Hollywood residents identify as LGBTQ+, and three out of five members of the West Hollywood City Council are openly gay. The city has been advocating for action that supports LGBTQ+ people for nearly four decades and the city is at the forefront of efforts to achieve and protect equality for all at the state, national and international levels.
About the Los Angeles Blade – The Los Angeles Blade, established in 2017 by Masters in partnership with DC's Washington Blade, has quickly grown to become a leading force in the Los Angeles LGBTQ+ community as well as a source national information. Along with the Washington Blade, the Los Angeles Blade is the country's only LGBTQ+ media outlet that is a member of the White House Press Corps. The Los Angeles Blade also has the web's most visited LGBTQ+ newspaper website and received accolades when former editor Karen Ocamb received the LA Press Club's prestigious Journalist of the Year award for 2020.
About JJLA – JJLA is a live and digital event production, management and entertainment company that creates experiences that increase audiences, energize fans and connect communities. Jeff Consoletti, the renowned visionary behind JJLA, designer of innovative solutions for public concerts, festivals, fan experiences and corporate branding events, says, "The Los Angeles Blade is an exceptional partner of Pride Guide, we reaching out to the community and documenting what is surely one of the most memorable and significant events in West Hollywood's 50-year Pride celebrations. The selection of Los Angeles Blade as the publisher of the Official Pride Guide will ensure that our sponsors and the wider community benefit from additional reach from a platform that is deeply respected and steeped in our community's history. said Michael Ferrera, director of JJLA. of sponsorships.
The Los Angeles Blade is offering special advertising rates to West Hollywood businesses for its fifth anniversary issue and the OFFICIAL WEHO PRIDE GUIDE.
For more information, please contact Troy Masters, Blade Publisher, at 310-230-5266, his cell at 917-406-1619 or at [email protected]. You can also reach Shana Wong at 323-798-5501 or [email protected] and Andrew Beaver at [email protected].
The City of West Hollywood's official WeHo Pride information page is available at www.weho.org/pride. For the latest Los Angeles Blade news on WeHo Pride, the OUTLOUD Raising Voices Music Festival, and other LGBTQ news and events from around the world, follow the Los Angeles Blade at LosAngelesBlade.com and our social media channels @LosAngelesBlade, or subscribe you to our weekly e-mail newsletter.
For marketers seeking additional information on partnerships involving WeHo Pride, OUTLOUD Festival and Los Angeles Blade, please contact Michael Ferrera at 310-874-8181 or [email protected].