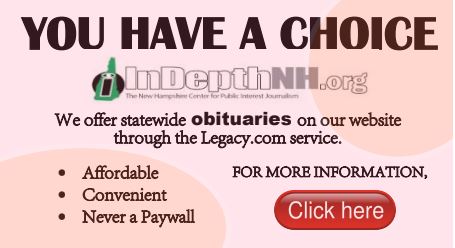 A look at notable deaths in New Hampshire over the past week
Today, InDepthNH.org begins this new column. Each week, InDepthNH.org staff will search the websites of over 75 New Hampshire funeral homes and select some of our friends, relatives and neighbors to be featured in this column. The people shown here died within the previous week and are chosen at random. InDepthNH.org now offers obituaries through the Legacy.com service. We see this as part of our public service mission. Click here or on the Obituaries tab at the top of our homepage to find out more.
Shields of Eileen (Richard), 87, a longtime resident of Atkinson, died September 26, 2022. Her family and her faith were everything to her, and she served as a Eucharistic minister at Holy Angels Parish in Plaistow. She was currently a member of Sainte-Anne parish in Hampstead. She was employed as secretary to the Plaistow Chief of Police for over 20 years before retiring and has been named Civilian Employee of the Year several times.
Also deeply rooted in her Catholic faith, Jacqueline Coulombe Ramseya longtime resident of Berlin, died on September 28, 2022, four days after turning 80e birthday. She served in the altar guild and as Eucharistic minister at St. Anne's Church. She especially enjoyed bringing Holy Communion to nursing home residents. She was a member of the Associates of the Ladies of Sainte-Anne and of Marie Rivier. She and her husband René were among the founding members of the Center Saint-Vincent de Paul in Berlin where Jacqueline volunteered for many years.
William (Bill) Andrew Murgatroy Jr. 75, of Lempster, who died September 26, 2022. He served his country in the U.S. Army as a sniper and decorated squad leader in the 9th Infantry Division in South Vietnam. He received a battlefield promotion to the rank of sergeant. After early retirement from Bell Atlantic Telephone in 1998, he worked part-time as an electrician with GO Electric in Cornish and his own business, The Phone Pro. He was a Bob Ross landscape painter and also operated a gunsmithing business, customizing and fitting stocks for the trap shooting community. In 1999, he and his brother entered the Grand American World Trapshooting contest in Vandalia, Ohio. He served as a Lempster Selectman and a Fellow of the Lempster Historical Society. He has written numerous articles for local publications and is the author of several historical novels, including a memoir of his time in the Vietnam War. His German Shorthaired Pointers, Misty and Amy, were his constant companions.
Elaine M. (Charest) Roy, 78, of Nashua, died Sept. 27, 2022. After graduating from high school in Lowell, Mass., she entered a convent for five years before realizing her true calling was to be a wife and a mother. Prior to her retirement, she worked for many years as a home health aide for Home Health & Hospice, a career she truly loved. She was well known for her impeccable sewing abilities.
Elaine M. (Norton) Ferrari77, of Salem died on September 27, 2022. She especially loved the Christmas holiday season and was widely known as one of the all-time great donors to her grandchildren.
Karen Presutti, 62, from Londonderry, who died on September 23, 2022, also loved the holidays, but another. Karen especially loved Halloween and everything that came with it. When she wasn't watching the latest horror movie, she and her grandchildren were busy picking pumpkins or adding to their Halloween display. Karen lived for her grandchildren and spent her days loving, caring for and spoiling them.
Yvette A. (Lacerte) Clark, 79, from Manchester, died on September 27, 2022. She also enjoyed the festive season and had the Christmas spirit all year round. Her love of country music inspired her to become a lead singer in a local country band. She liked to laugh, dance or party with others wherever she went.
And speaking of country music, Louis G. Richards Jr.., 88, a longtime Marlborough resident who died on September 19, 2022, was an accomplished musician, playing lead guitar and singing in his country western band, 'The Esquires'. He served in the Army National Guard and was inducted into the military and stationed in Germany during Allied occupations after the end of World War II. Prior to his retirement, he was a supervisor of the quality control department at Markem Corporation in Keene.
William Roger Canny, 85, a longtime resident of Nashua, died Sept. 27, 2022. Born in 1937 in South Boston, he was the son of Irish immigrants. Proud of his roots in South Boston, he worked for Raytheon Corporation for most of his professional career. His family said he never let the truth get in the way of a good story. Bill will be remembered by many for his selfless dedication to youth development in Nashua City. For over 30 years, he coached St. Christopher's Parish basketball teams in the Nashua Deanery CYO league. For more than a decade, he coached minor league baseball with the Nashua Parks and Recreation Department. For a few seasons he even coached football in the Nashua Y League, although he knew little about the sport.
Nashua also lost another tireless sports booster last week. Brendalee Holbrook, 57, of Nashua, died Sept. 26, 2022. She was a sports enthusiast and volunteered for many decades with the Nashua Cal Ripken Baseball League. She ran the concession stands, served as treasurer, assistant league manager, coach and accountant.
Diane S. Plante, 69, from Dover, died on September 26, 2022. Before having children, she worked for General Electric in administrative and office positions, and after raising her family, worked part-time for the department Dover school. She enrolled in college and in 1991 earned a bachelor's degree in accounting from New England College. She then worked for Liberty Mutual for several years before finally working for UNH. A two-time cancer survivor, Diane had an optimistic outlook on life and persevered despite being diagnosed with breast cancer at age 40 and colon cancer five years later. She loved to travel and saw much of the country on the back of her husband's motorbike.
Michel L. Monfette, 74, of Alton Bay, died September 27, 2022. A Vietnam-era U.S. Army veteran, he was a plant manager for Burton Wire and Cable before retiring last October. He was known to often lend a hand to anyone who needed a repairman, and he would tackle any home repair job. He was very proud of his role as guardian of his whole family. He will also be greatly missed by his constant companion, Henry the cat.
Thomas W. Geoffrion, 45, of Rochester, died on September 26, 2022. Tom was a jack of all trades – carpenter, machinist, mechanic and painter. He has spent the last 10 years working at Portsmouth Dockyard as a painter and NDT inspector. His favorite hobby was going to concerts. He always bought a second ticket for a friend to join the party. Tom also had a passion for recording local bands in the Coastal region and was known as "Tommy Two Thumbs". He enjoyed riding his Harley Davidson and making the annual trip to Laconia Bike Week.
Genevieve "Gen" R. Baines, 93, of Seabrook Beach, died Sept. 28, 2022. She married her high school sweetheart in 1949. She and Wallace "Wally" E. Baines moved to Arizona, where Wally was a student at Arizona State University. She worked to help her husband go to college. He eventually became a professor at Norwich University. This devoted wife and mother of four daughters supported her husband's career changes from Hampton Academy to Jeffersonville Central School in New York, with a final move to Norwich University in Northfield, Vt. At Norwich, she was involved in the organization and planning of faculty functions. One of his favorite activities was managing the college ski area. Education was so important to her that once her daughters were all in college, she also returned to college, earning a Bachelor of Science in Education from the University of Norwich/Vermont College in 1988, the same year her husband retired.
R. Frederic Ashenden, 80, of Rye and formerly of Hampton and Billerica, Mass., died Sept. 26, 2022. A U.S. Navy veteran, he was a mechanical engineer by trade, and throughout his life had a love for music, serving as organist and guest organist in many churches. He enjoyed singing in many choirs and with the Hampton Chorale.
Music was also an integral part of the life of Blanche L. (Lefebvre) Proulx, 93, of Allenstown, died September 26, 2022. Prior to her retirement, she was employed as a computer programmer for the New Hampshire Union Leader for more than 32 years. As an active communicant in the parish of Saint-Jean-Baptiste, she began singing in church at the age of 9.? For more than 60 years, she was a dedicated organist at Saint-Jean-Baptiste before retiring in July 2019.? In addition to being the director of the women's choir, she was also a long-time member and past president of the Ladies of Ste. Anne Sodality.
Raymond L. Mayo Sr.., 84, of Claremont, died Sept. 26, 2022. He graduated from George Washington University with an associate's degree in medical science, and his 22-year naval career took him from Camp Lejeune, Int. North Carolina, several naval hospitals and the USS Rest Hospital Ship before being assigned as a freelance physician aboard USS Mark in Vietnam. He served two years in Vietnam and was one of two veterans from Maine who was recognized by the Secretary of the Navy with a Medal of Merit and Achievement in the Enemy Line of Fire. He retired in 1979 with the rank of senior chief petty officer. In retirement, he worked for Metropolitan Life and served as president of the Life Writers Association; and as a publicity agent for the Tampa Tribune. He also created and published the Connecticut River Valley Real Estate Magazine in New Hampshire. He was active in pro bono work, including as a member and grand knight of the 3rd and 4th degree Knights of Columbus; recipient of the Grand Knight of the Year award and a member of the St. Mary Cavaliers Color Guard.