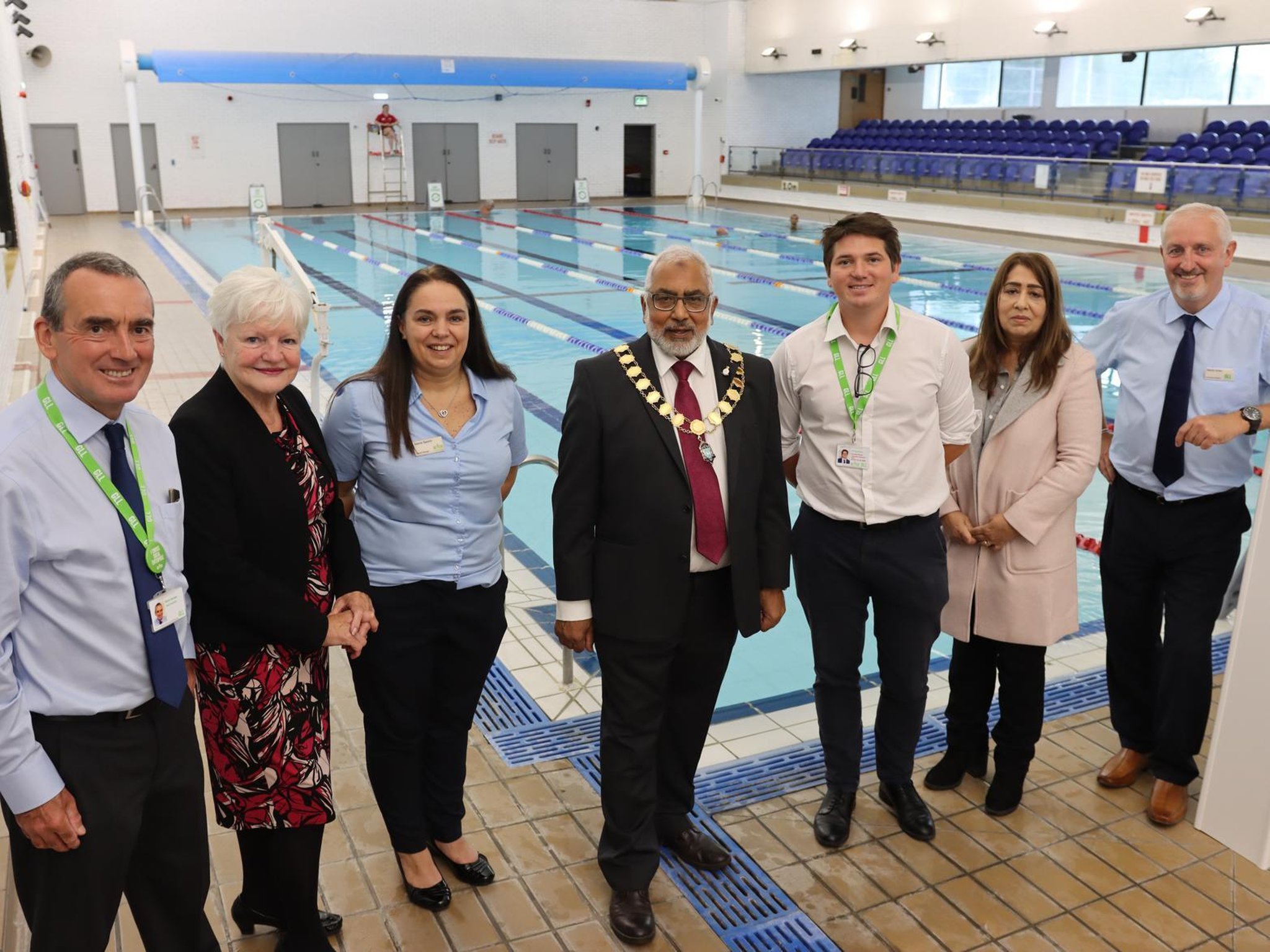 Revamped West View Better Health Leisure Center in Preston features new sauna, upgraded pool and upgraded climbing wall
Renovation of West View Better Health Leisure Center in Preston. From left to right: Mark Sesnan (CEO of GLL); Advisor Jennifer Mein (Cabinet Member for Health and Welfare); Jolene Swann (Managing Director of Better Preston Partnership); Mayor of Preston, Councilor Javed Iqbal; Tim Bestford (GLL Service North Region Manager); Councilor Zafar Coupland (Deepdale neighborhood); Derek Jones (Manager of Better Partnership South Lakeland, Copeland and Preston).
The Ribbleton Lane center was opened on Monday by Preston Mayor Jayed Iqbal following renovations to the pool, upgrades to the climbing wall and a new sauna.
suite being added to the facilities.
Derek Jones, Better Partnership Director for South Lakeland, Copeland, said: "After a difficult 18 months for many, we are proud to unveil our new and improved facilities at West View.
Better Health Leisure Center and I hope they provide a welcome post-Covid boost to our many customers, which means more local residents will be able to take advantage of the facilities in the future. "
The work included re-tiling the pool tank, repainting the billiard room and installing a new sauna.
The popular climbing wall has been a feature of West View for over 30 years. Offered by PrestonWall experts, it now benefits from a doubling of customer capacity on 500 m² of block
and over 700 m² of rope climbing with self-belaying stations.
The recreation center remained open for the gym, fitness classes, gym, indoor and outdoor soccer and soft play as work was completed in 10 weeks this summer.
Paul Cottee, PrestonWall, said: "We are delighted to usher the West View Climbing Wall into a new chapter in its long history.
"Being able to not only renovate the existing walls but also expand the climbing facilities allows us to welcome many more people into the climbing community who want to do their first
enters an exciting sport which saw its first appearance in world competition in Japan this year. "
Councilor Jennifer Mein, Cabinet Member for Health and Wellness at Preston City Council, said: "The West View Better Health Recreation Center has been an important part of the local community for
many years and many residents missed the facilities when it closed.
"It's fantastic to see so much investment being made in the local recreation center."
The swimming pool and sauna are open from 7 am Monday to Friday and 8 am on weekends.
For details on the sessions, see www.better.org.uk/west-view The climbing wall facilities will be managed separately by the Lakeland Climbing Center. Visit www.prestonwall.co.uk